WHAT IS GOING ON?
Since the GOR patch, NOTHING was done to the people and items that took advantage of the Gor Patch Plusing Glitch. I created this thread: and got what I considered to be a great response from Prism.

I still have not received a response from my ticket regarding the 250g I lost during the GOR Patch DC'ing.

Now once again there is another day with a failed patch, players DC'ing and taking advantage of another Plusing Glitch. I do not find this shocking, since nothing was done before and why would anyone think anything would be done this time?

But what is MOST shocking about today is a GM congraduating those players taking advantage of the Plusing Glitch, ignoring players that are needing help and eventually deciding that getting snowballed in an arena is the best image for GOA and GF.

I apologize if my frustration with GOA is showing in this post, and if I said anything out of line, but I am really frustrated! I have someone pretending to be me and yet nothing can be done about it, I come back after taking a few day break and come back to todays events.
SUCCESS
Level 90, Lapiris


hun ur rite to post wats on ur mind the gm was do that on our side as well and was rude with it
i was in gor and i sawit to and now my main DEATHLORD47 wont login from being glitched out by crashes
Tazataro
Level 48, Lapiris


hmmm sad to see it but i gotta agree with ya taz. if people are getting away with glitch exploitation like everyday activities then the economy will get worse than it already is. and with people getting the raw end of the glitch we won't be able to afford
Anything
soon. something must be done for things in goa to start looking up again seems to have been a downhill slide since champions patch and gor didnt exactly help matters (side note: i cant log for it either)
not just wen i was on it was crashing the game every 2or3min
DigitallonestarX
Board Administrator
I poked our coma with a link to this thread, and will reiterate what I have said in another thread, please ss such happenings and report them, if you need please come on irc and contact a superior directly, or feel free to send us emails.
I will take this opportunity to state that we admins hold our team members to high standards and such behaviors are not tolerated, I'm sorry for your below standard experience ingame and will do whatever I can to make sure the occurrences are rectified and do not continue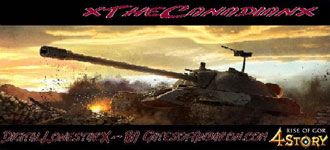 Awesome sig By Trixy
DigitallonestarX,

I am pretty sure the actions and chat of GM's Accounts are logged very well and maybe a review by GF of todays events would be in order?

It's not just the actions of GM's today that has players getting upset. Watching the latest round of Plus Glitching is very disconcerning to a lot of GOA players and should have been stopped hours ago. Taking advantage of a glitch, from my understanding, is against the rules and a banable offense. I can understand how much work it would be to ban all the accounts involved in todays events and/or remove all the weapons, but at least revert back to pre-patch. However this does not seem to be an option based on what [GM]Shadow wrote "no there is not going to be a rollback" earlier today in admin chat.

Based on the lack of action from the previous Plus Glitch and more then likely the lack of action for this round of Plus Glitching, I think I made a mistake picking GOA over 4Story Global.
IvBradvI
Level 83, Lapiris


I completely agree TAZ, this issn't looking very well, & i'm hoping to see a change soon.
RwkY
Level 85, Lapiris


well the +ing glitch is off now, no dcs too, but there is a problem.

Nobody got their MS items back from the +ing that they used, and at the same time, nobody got their +ed gear since it was reset.

There are a few who got their +24 (more or less) saved, because they dcd manually, not by the game.

But still, I agree with TAZ with the GOR patch, and about GM's.

Besides, +ing SUCKS (if you ask me) since GOR patch, Christmas is near and they just take the money and don't offer the support we need.
FZM1
Level 84, Lapiris


well seriously agreeing with Taz i have to say that we all have made the mistake that we choose this when there is 4story global. in short this sucks... 99% fail rate. 99% fail refine. 99% sucks